Written on August 4, 2009
One of the down sides (and I mean that literally) of living in South Orange, NJ is the beastly hills. To add insult to injury, I actually live near the top of the hill, so that means easy trip downhill to pretty much anywhere, but sweatin' time on the way home. With all the "stuff" I've been hauling on my Big Dummy lately, I'm starting to consider a it of assistance — not a hub of course.
Cleverchimp's Stokemonkey is on v2.0 these days. Cool huh, but support is sorta limited to the Big Dummy and Xtracycle conversions.
Ecospeed has been providing killer assist solutions for recumbents with their EMD (Electric Mid-Drive) for a long time. They finally startied supporting the rest of us "uprights" with their EMtnD (Electric Mountain Drive), and it actually works on most all bikes. Better still, they've got a 1000W motor in the works (Stokemonkey is 500W)!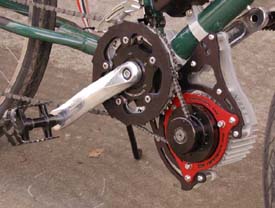 These guys really know how to make bikes fly!